---
Fingering & Sock Yarn
---
4" = 28-32 stitches Needles: US 0-3, Metric 2-3.25mm (Needle size may vary)
Novita FLORICA made in Finland fingering wool - I've used a US 3 needle to knit Florica, others have used a US 4. It makes a very nice garment.
---
Novita Florica

$4.25

50 gram ball - 163 m 3-3.5m needle 25-26 st 4"
Great yarn! This is a steal!

100 % wool superwash

Individual monitor settings may not show actual product color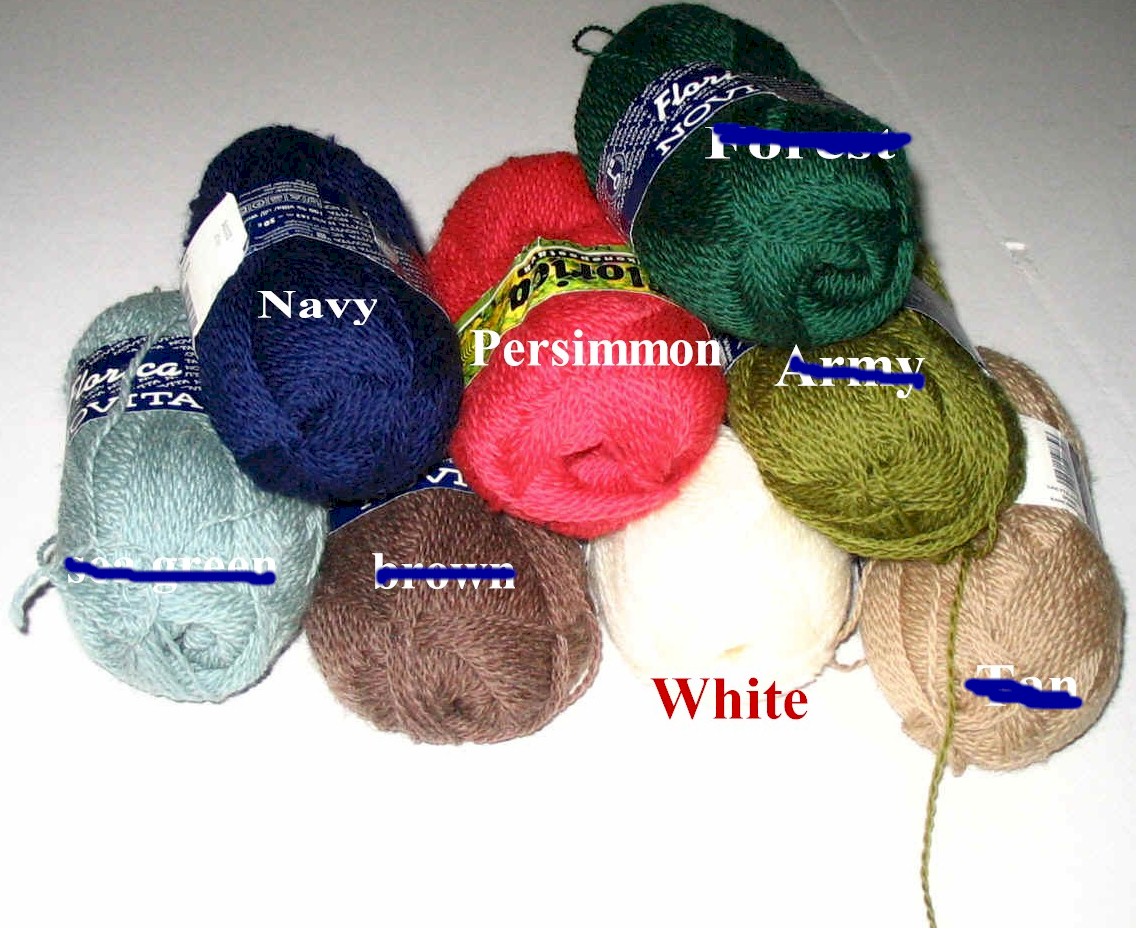 Florica colors that are in stock: Navy;/ Persimmon; 10 balls/ White;
This is the last of this great yarn - Florica! navy and persimmon colors are a little off
---
© 12/22/2008 updated
---

Now on SALE!
This is a nice sox yarn that is soooo affordable and feels great to work with. It holds up under kid use! It only takes one ball to make a pair of socks for kids and 2 balls for most adults. The yarn comes with its own pattern printed on the label. If you start now you can make everyone on your holiday list a pair! Oh, yes, this yarn washes like a dream.
---
Hot Sox

# 044 Steel Hot -in stock

per skein $2.99
60% Acrylic, 40% Nylon
Only those marked with a red X are in stock. Limited to stock on HAND!
50 Grams, 203 Yards (approx)
gauge: 28 sts = 4" US needle 3 / 3.25 mm or US D crochet hook

Individual monitor settings may not show actual product color
Limited to stock on hand Color #106 Denim Hot 7 balls; Color #742 Aqua Hot 7 balls; Color #135 Jazz Hot 4 balls; Color #732 Pink Hot 11 balls; Color #044 Steel Hot 8 balls; Color #014 Army Hot 5 balls; Color#712 Lime Hot 2 balls; Color #713 Hot Tamale 6 balls
---
---
---
---
$
% Nylon, % Acrylic
Grams, Yards (approx)
Individual monitor settings may not show actual product color
---
$

% Wool, % Polyamide

100 Grams, Yards (approx)
Individual monitor settings may not show actual product color
---
% Wool, % Polyamide

100 Grams, Yards (approx)
Individual monitor settings may not show actual product color
---
$ per skein

% Wool, % Polyamide

100 Grams, Yards (approx)
Individual monitor settings may not show actual product color
---
$ per skein

% Wool, % Polyamide

100 Grams, Yards (approx)
Individual monitor settings may not show actual product color
---
$ per skein

% Wool, % Polyamide

100 Grams, Yards (approx)
Individual monitor settings may not show actual product color
---