Vacation at Ocean Shores, Washington 2005
by Arlene Ritzhaupt
I had such a grand time exploring the Sawdust and Sand Competition; I thought I would share with you. Stumbling upon this event was fun and invigorating. I may have twisted the name around, what can I say. There are some good prices for motels in Ocean Shores, just make sure you book your room for the length of time desired. Brother, do rates go up on Saturday night! The Comfort Inn offers nice rooms with a huge breakfast in the morning and Starbucks Coffee. These rooms have ceiling fans, but no air conditioning. I reserved my room on the internet and needed to add Saturday, but not at $229 for Sat! You are now forewarned.
The convention center parking lot was filled with the buzz of saws. Chainsaw carvers were sheltered from the weather under tents as their saws bit into the 6' hunk of wood, spitting sawdust at a devilish rate; chips were flying every which way. The only way to protect your eyes from the feathery puffs to lethal chunks, was to keep your sunglasses snug to your face. I never realized just watching a creative experience could be so dangerous. Some carvers traveled from far away places. Japan, Germany and New (South?) Wales were represented besides many from Washington and other states. It was stunning to watch a carver take a hunk of wood off and realizing they knew exactly what they were aiming for. The roar of saws was deafening but wildly exciting. Some carvers would deftly make intricate and almost insignificant cuts to reveal their object of beauty. I had never before seen women practicing the art of chainsaw carving. Hats off to you ladies! That's like having a tiger by the tail and far more than I want to play around with. The tools of the trade were represented by every chainsaw brand and size. There were some very tiny saws. They made me think they would be cute just to have and hold. They gave almost the same feel as chucking a new puppy under the chin. But the blade was so tiny, maybe 4-6", they were just cute. Okay, it's a girl thing.
Please DO NOT copy my PHOTOS!
Friday June 24th, the first day of competition-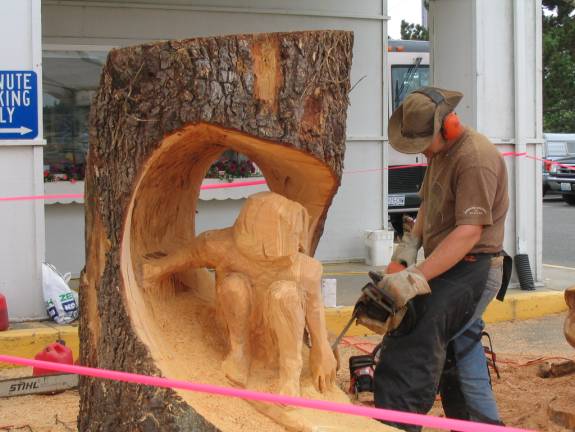 This is the carver from New Wales creating a surfer catching a wave.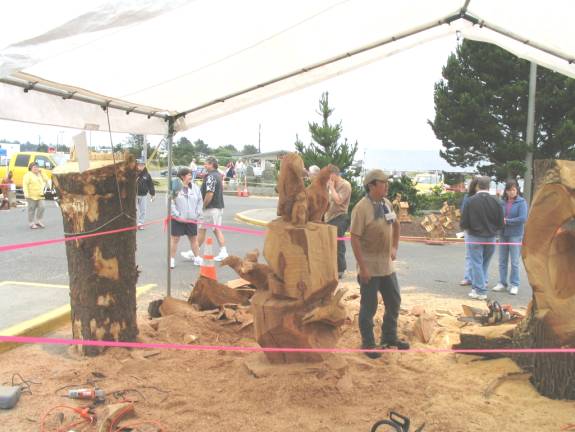 The carver from Japan just finished his carving for the day and will start tomorrow about 9 or 10 am. He is working on a group of penguins at play.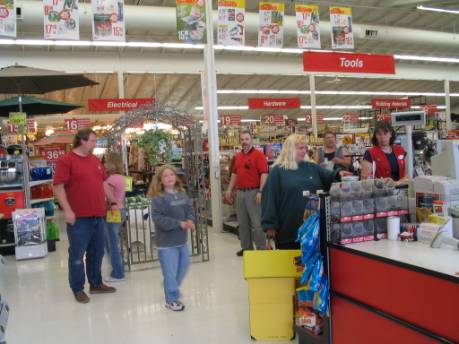 This is the helpful Ace Hardware guy. He helped insert the new camera disk.
A trip to the beach and the sand sculptor showed us how to prepare the sand for sculpting. Lots of water and lots of buckets with lots of mixing, makes for very messy work. Just keep adding containers of a sand and water mixture until it is larger than the size you want, before you start carving. Strapping or a metal shipping tape was used for carving. The standard tile trowels work great too.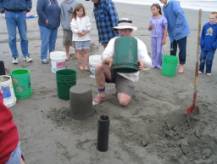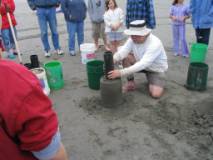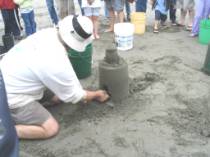 After seeing this mixing technique, I was thoroughly convinced I needed to stay another night and see what would be created on the beach during competition. When the instructor told us there was a sculpture in front of the convention center, I was rather taken back. When I was informed that it took up about a 12' x 12' area, I truly wondered if I'd been to the correct building. I needed to go back and find what I'd missed. It was good to come after most of the crowds had left. There was plenty of room to park and the saws had stopped for the day.
How could I have overlooked these characters playing cards, on my first trip amongst the carvers?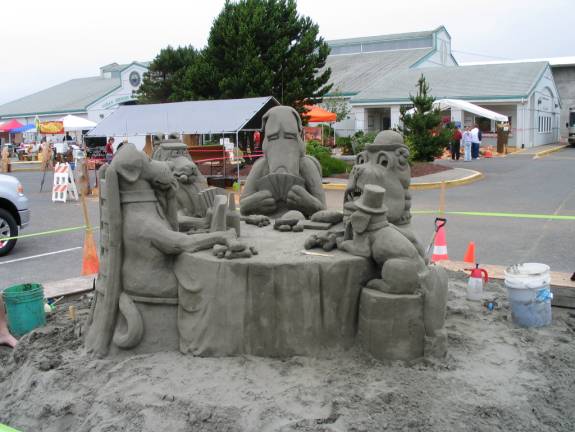 4 Dogs Playing Poker
I was very intrigued with this sand sculpture of dogs playing poker for bones. I wanted to see someone build something like this so I could see the action. I did find they used benzene, I believe, in the water to help it stay moist longer. Totally amazing!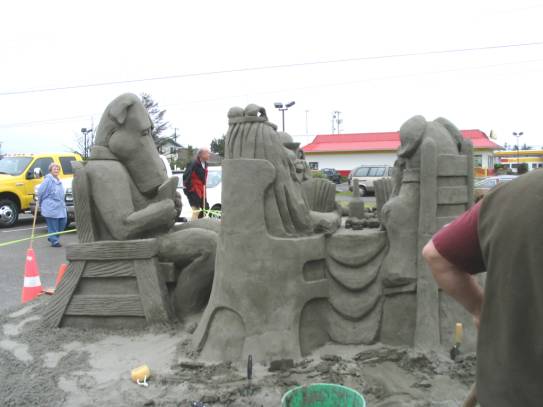 The detail........... I booked a room to stay another night; I had to see what would be created the next day. I had never witnessed sand sculpting. What an opportunity! They started with about 200 +/- buckets of water. Here one sculptor is making more bones. Two sculptors created this sculpture. You can't see them, but on the top of each dog is a 10" wire so the birds won't take over.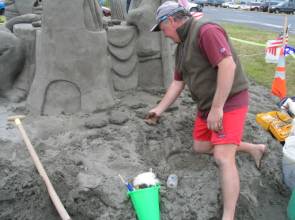 Friday had been rather hot for Ocean Shores and Saturday was to be a repeat. I was all packed and ready to move out in the morning to a less pricey motel for Saturday night.
To dine or just eat:
My favorite dining experience was at Emily's in the Quinault Resort & Casino. Try the Halibut - it is stunning, I'd ask for less salt! The service is friendly and welcoming plus prompt. The price was a touch above the rest by only pennies! Well worth the wait!
Everyone raved in town about Alex. I truly cannot recommend the place! Common and very ordinary, very over priced! Salmon was awful and the veggies were water logged without color! I had to leave the meal on my plate it was that bad.
My last evening meal in town was at the Waves in the Best Western Inn. Michael, the master chef, was delightful and created a succulent seafood sauté just for me, wasn't that sweet. I had a perfect view of the ocean and great service. I would strongly recommend a visit here. They have a small sports bar with TV. About the same cost as Emily's.
The IGA is great to buy food and take back to your room.
If you are a member of the Community Center, I would strongly recommend a breakfast or lunch there. They offer plain and simple fare, including burgers, with plain and simple prices. Lots of friendly faces, and plenty to keep the kids busy! The center boasts a swimming pool, TV and reading room plus a game room and a small gym. There is lots of new equipment in the exercise room. Most of the areas have a lovely view of the bay looking back toward Hoquiam and Aberdeen.
The start of Saturday's competition shows the mixing of sand and water in a form. One form has already been set. This is the hard task and all are called into action. Huge holes are dug into the beach and filled with water using the fire truck for quick access by sculptors.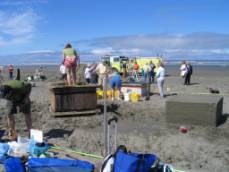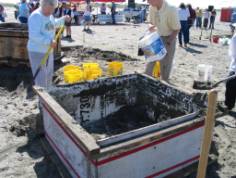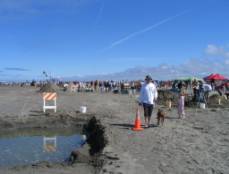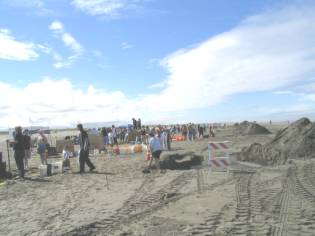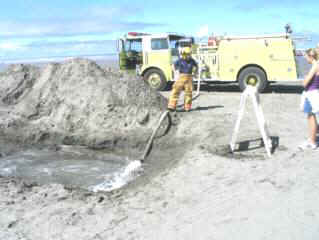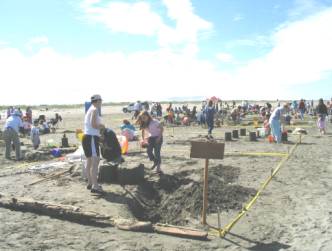 They are now getting underway between 9 and 10 am on Saturday
Below workers from Pigs in Space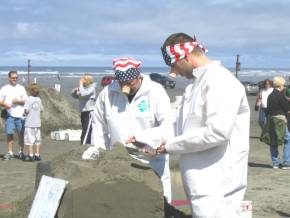 Left is the boy working on Lone Trees; Middle photo the start of Willie Wonka; Right photo is the start of Smokey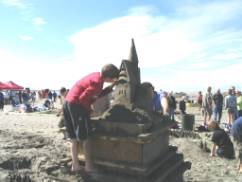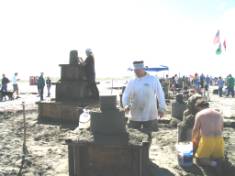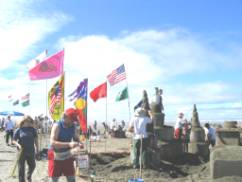 I have to leave for a lunch date with a new friend and a meeting at the Community Center. I will return later for the results and to see what they have built.
I return about 3 pm and the beach is packed with parked cars and people strolling between the convention center, the beach and motels. It's a real zoo! Oh, I forgot to mention, someone is selling huge kites and they are also flying over head.
All sculptures have a large amount of detail so look closely.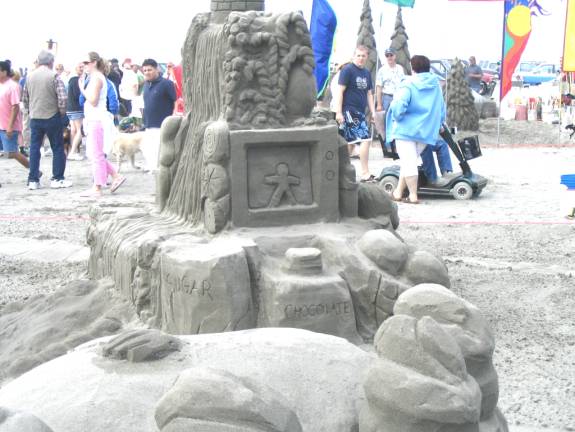 This is the Willy Wonka and the Chocolate Factory. This is the first place winner for the Pro section. This shows the river of chocolate
.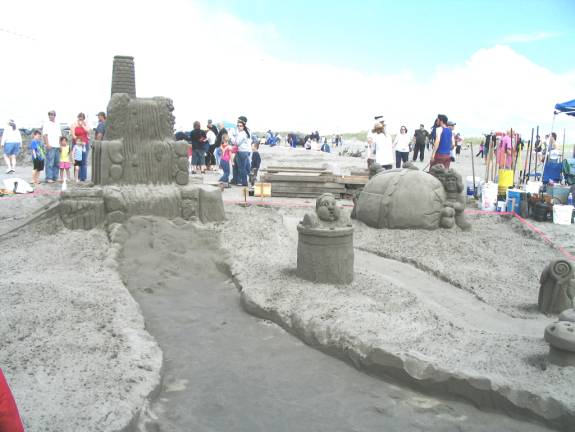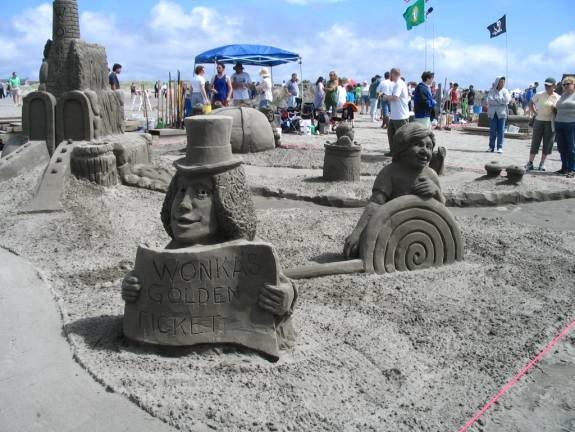 This is 2nd place winner in the pro section with Pigs in Space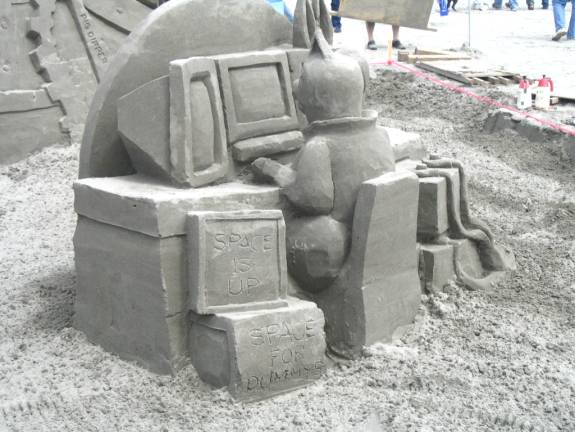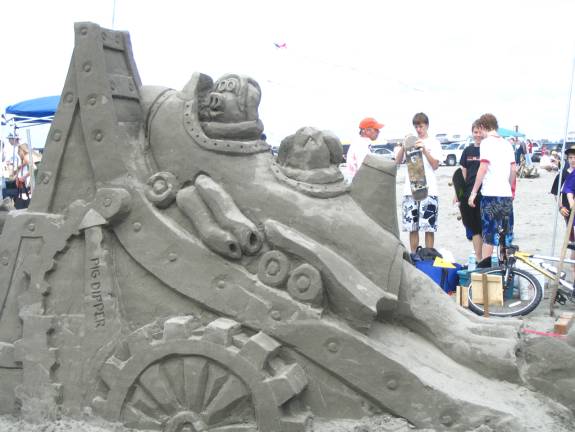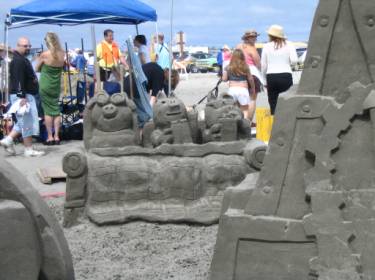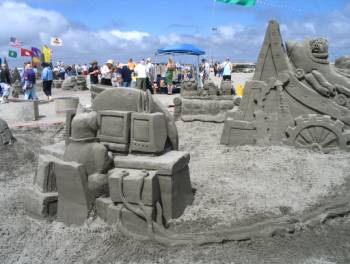 Third place in the pro section was Smokey the Bear. I think?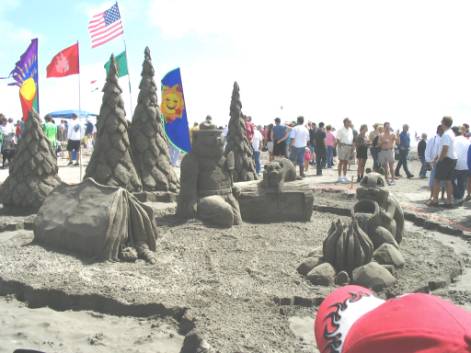 The below won something and I can't remember what. It's the changing times. Great deal of detail!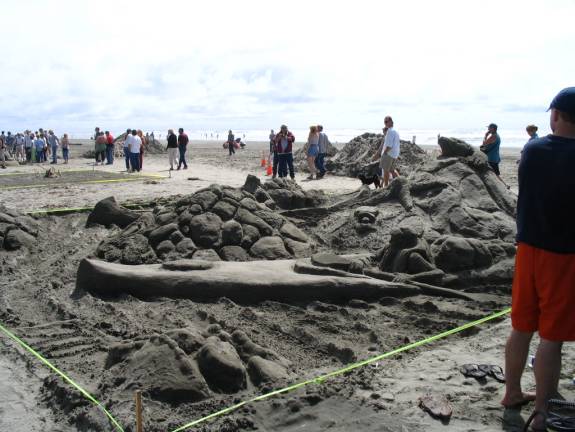 This is first place for Intermediate and I think they were from Idaho. This is called Lone Tree mainly built by kids. You can see how they built the small trees.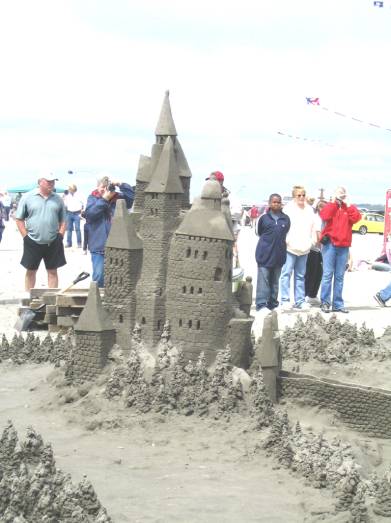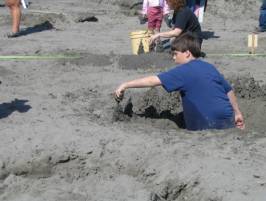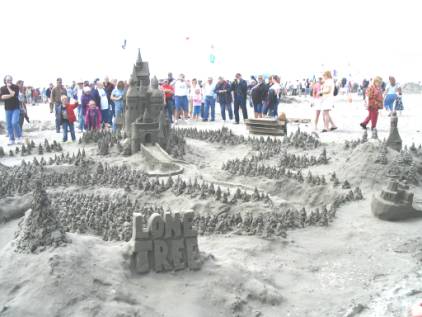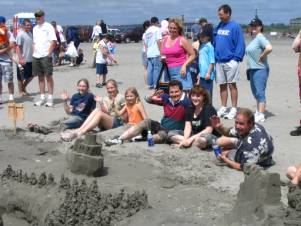 The crew is waving.
What would the show be without a lion? I am kicking myself because I didn't get a side shot of the lion with so much detail!! There were many more entries but sadly, the photos weren't up to the quality I want to show.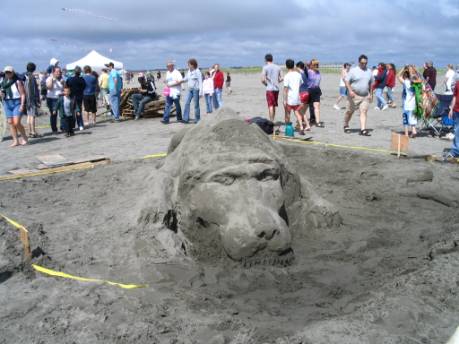 At the end of the competition all the watering holes were filled back in and not by hand. The next morning there was little to tell that there had been any activity on the beach.
The surfer ended very nicely! The penguins are much nicer than my photos show!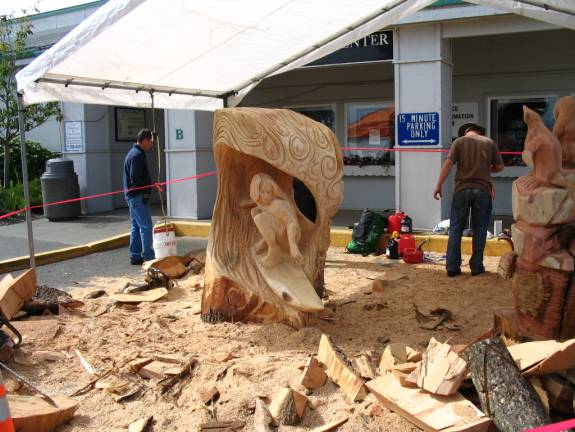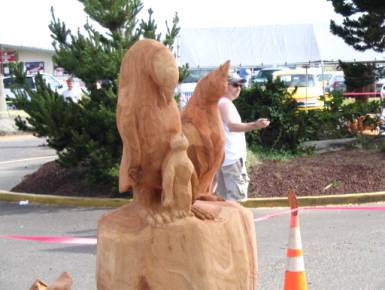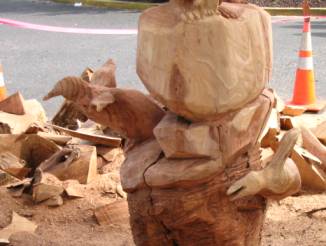 These are great items that needed to be shown. I love the bench!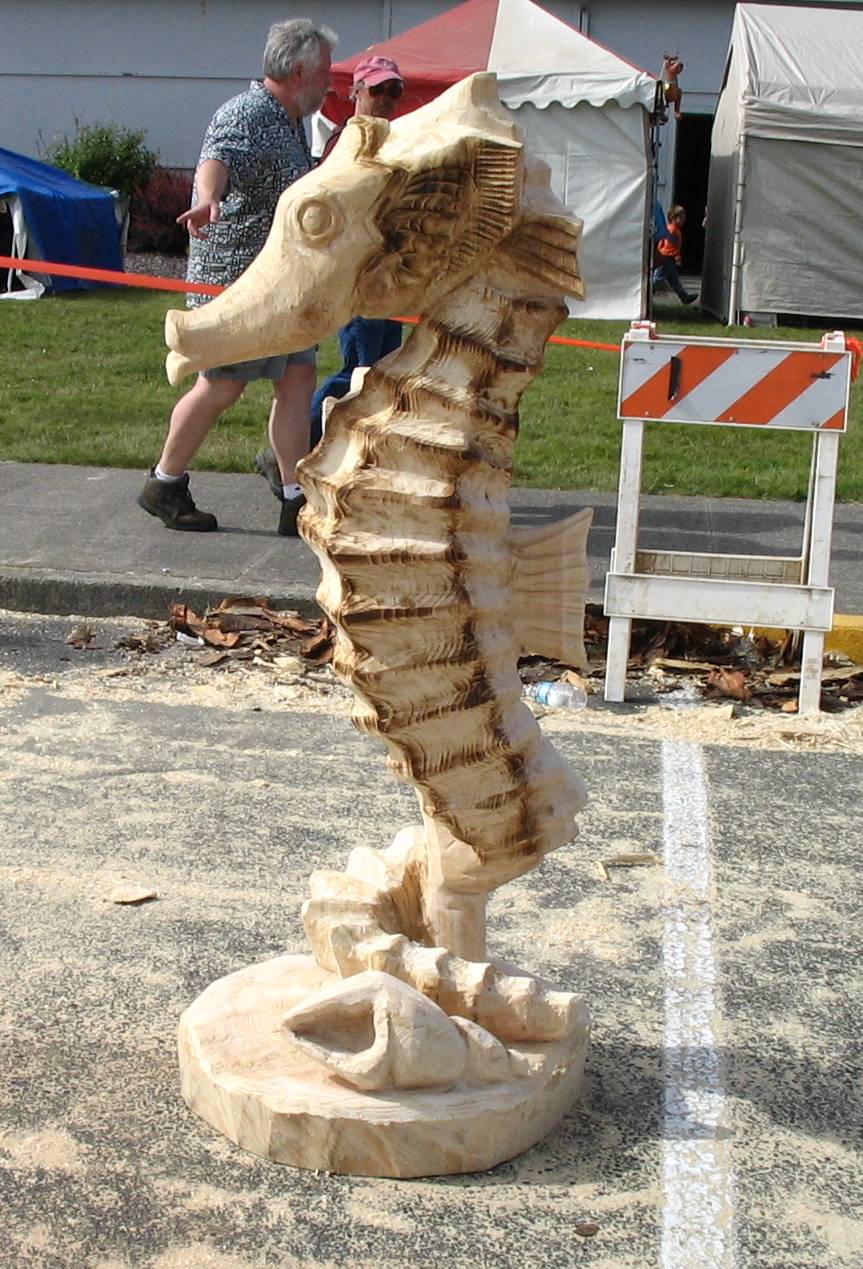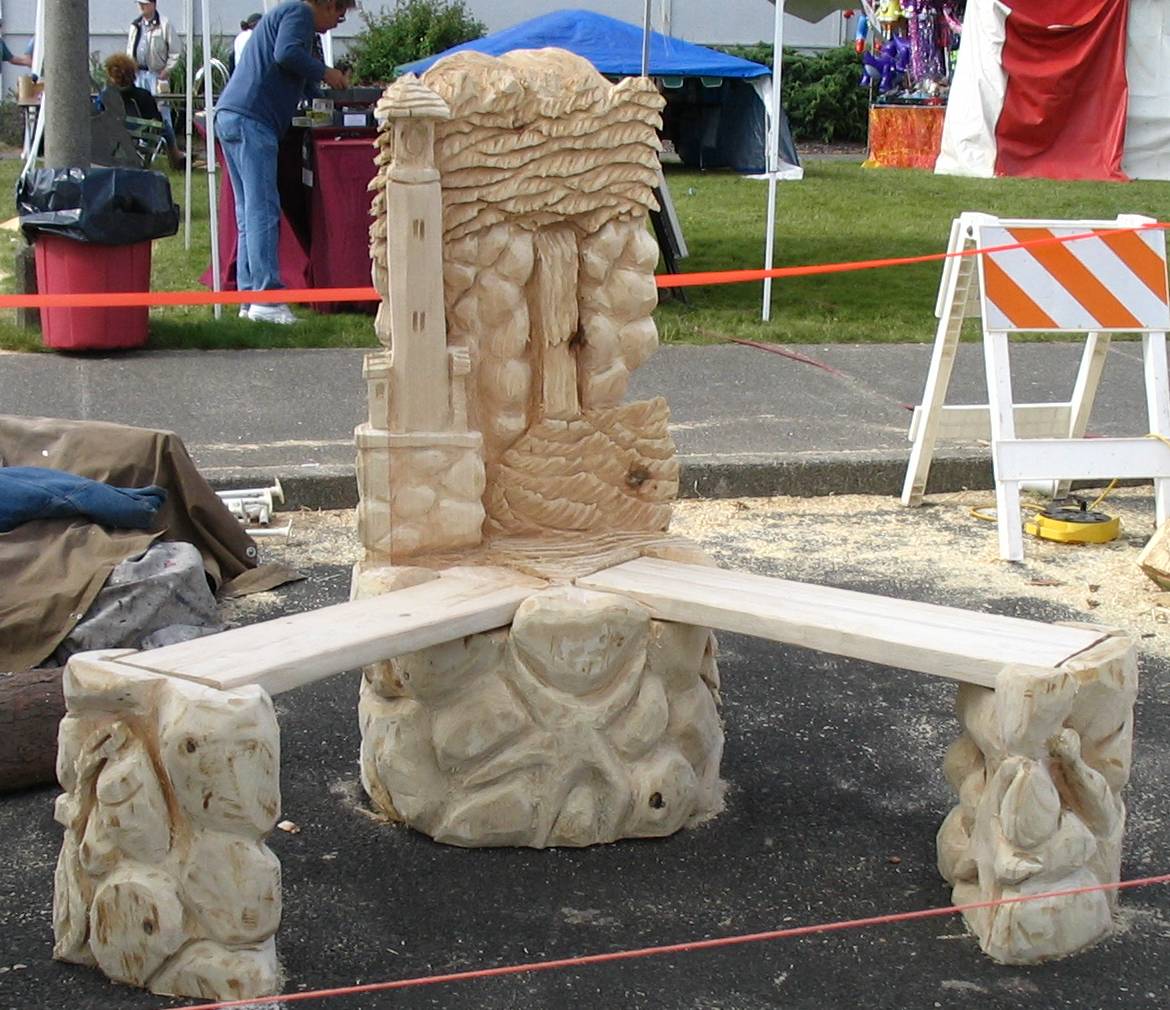 I hope you enjoyed as much as I did!
Arlene
Here are all the facts you need on Ocean Shores at this link:
http://www.oceanshores.com/stuff_to_do.htm
You may need to cut and paste this last link:
http://www.epodunk.com/cgi-bin/genInfo.php?locIndex=24925
© 7/3/2005