Snowbound Christmas 2008
This past year gave me a lot of new experiences... I'd never really been snowed in before. It was thrilling and terrifying all at the same time.
My little family didn't celebrate Christmas until January 9, 2009!
This is what it looked like at my house on Christmas morning... Looking down on the drive from the second floor of the house. That's not the beginning of the driveway, it's about 150' in from the main road. The drive butts up against the bushes to the east and follows along the edge before curving in front of the barn as it climbs up the hill to the house.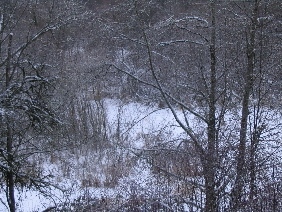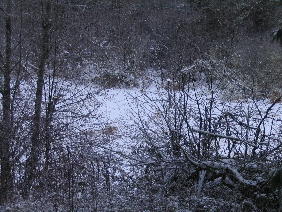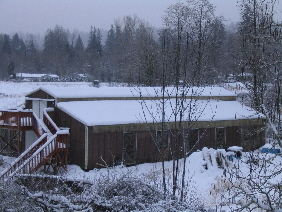 The view over the top of the barn. The house in the background is the closest neighbor I can see, about 20 or 30 acres as the crow flies. The drive is about 3 miles to their house. In the lower left of the fourth photo you can faintly see footprints from the day before trek down to hitch a ride for supplies. Lots and lots of snow!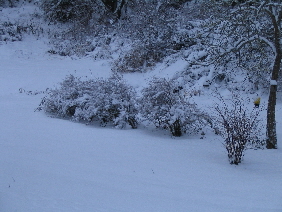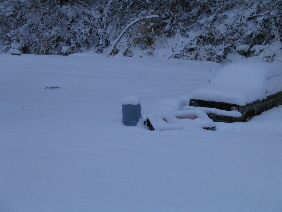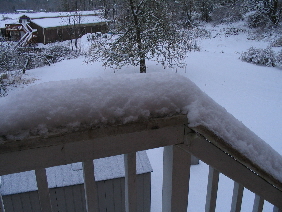 I was very concerned about being without power. Yes, I have a generator but I didn't know how to start it or fill it with gas. My tenacious daughter Anna solved that problem. She figured out how to start it and got it started and let it run while we got more fuel. When we got back home she shut it off and made sure I could start it on my own. It seems as though I was snowed in for far too many days. Anna came every few days to take me out for supplies.
One day she came without her chains, the main roads were clear and she didn't want to tear up her chains. Well she slid off the driveway and became stuck. Triple A was so busy they didn't even answer the phone. Out of desperation I got the keys for the Kubota tractor which I had only driven once for a few minutes. I had no idea how to raise the attachments or to even start the thing. I gingerly tried to start it with the turn of the key. Nothing but a puff of smoke. Anna jumped up there and made it start. She drives a stick shift which I have never done. It had turtle drive so I figured we'd be sort a safe. After all, how fast can turtle drive be? Driving a tractor for the first time doesn't really sound that bad, but add about a foot of snow and it gets dangerous. Coming out of the barn there is a steep hill down to the driveway. Thank goodness for turtle drive! With a lot of experimentation and pure fortitude we gave it a good try. Little did we know, the right front tire was lodged against a fallen fence post.
Triple A would not come down the driveway. There was just too much snow. Anna called a cab and had to hike out to the road to catch it. Remember, my main road and most of my driveway is covered in snow and also flooded. The next day she was able to retrieve her car with the help of triple A. I only had to wait a few more days and she was able to get in. I did end up staying at her house one night since I was getting tired of being totally isolated! I think we had 17 days of snow. One day it was suppose to clear up and the rain was suppose to wash away the snow... well, it came down in that white stuff and stuck around for a few more days. The longest period of snow that I can ever remember. I've lived her most of my life and I've never ever seen that much snow!
Everyone that wished for a white Christmas should be sent to bed without supper!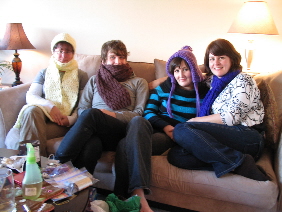 My daughter Teresa on the left, grandson Dale and granddaughter Emily next to their mother and my youngest daughter, Anna. They are all wrapped up in the gifts I made for them. We celebrated our delayed Christmas, January 9, 2009. We did our traditional gift opening. It is almost ceremonial as we draw out the unwrapping of a gift. Each gift has its time in the lime light. Gifts from one person are passed around. Only one person opens one gift at a time. Everyone shares in the opening as we all watch and enjoy a person opens a gift. This way we all can see what they get and share in their joy. Oh yes, it takes a lot longer to open gifts but we sure do remember what everyone got.
I can only hope your holiday was as enjoyable as mine!
© 1/20/2009